OpenCon LatAm 2019
September 26, 2019

-

September 28, 2019

Free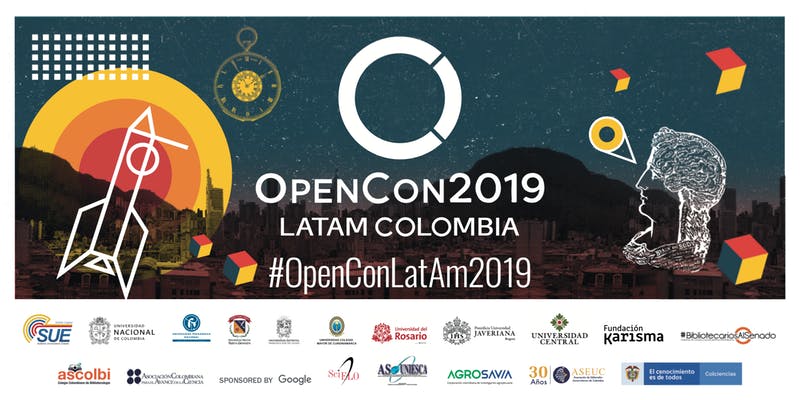 The OpenCon is an international open access conference especially aimed for students and young researchers. This year's edition will take place in the Universidad Nacional de Colombia  and the Pontificia Universidad Javeriana, both located in Bogotá, Colombia.
Dates: 26 – 28 Sept 2019
—–IN SPANISH—-
OpenCon es la conferencia internacional sobre acceso abierto al conocimiento científico y académico, educación abierta y datos abiertos, dirigida especialmente a estudiantes y a quienes están en sus primeros años de carrera profesional académica.  Es una contribución a formar los líderes del futuro en estos temas.
OpenCon es organizada por Right to Research Coalition, SPARC (The Scholarly Publishing and Academic Resources Coalition) y un Comité integrado por estudiantes y profesionales académicos jóvenes, de diversas partes del mundo. En las ediciones de 2014 y 2016 la conferencia se llevó a cabo en Washington D.C., en 2015 en Bruselas, en 2017 en Berlín y en 2018 en Toronto.
Además, OpenCon apoya la realización de eventos satélite organizados por los propios participantes. Los eventos satélite han tenido lugar en 25 países y en ellos se discuten contenidos de educación, acceso y datos abiertos a nivel global, así como presentaciones locales. En la reciente OpenCon de Toronto 2018, los participantes de la región latinoamericana que participaron en la desconferencia eligieron a Colombia para realizar OpenCon LatAm 2019, debido a que se ha identificado en el país una comunidad activa, con actores relevantes, que impulsan y promueven los ecosistemas abiertos y elementos de la ciencia abierta.
Source: https://conferencias.unimilitar.edu.co/index.php/opencon/2019