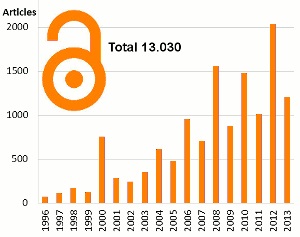 According to a new research on open access repositories, the number of open access repositories grew from 128 in the year 2005 to 2253 in 2012. This is a 1660% growth in just 7 years. There rate of growth over the period, however, was not consistent, the research found. There trend was steady growth earlier in the study period and decline in the final study years. The reason behind slowing down of the rate of growth could be attributed to the saturation of the repository development in some countries. This cannot be by any means the only logical explanation, nonetheless.
There are geographical variations attributable to the repository growth trend. Europe is a leading continent in terms of hosting and developing number of open access repositories. North America comes second. During the study period the gap between these two leading continents is widening rather than shrinking: repositories in Europe are growing at a faster rate than their counter parts in the North America. Asia showed sharp increase particularly since late 2010. In Africa open access repositories experienced slow growth rate throughout. The number of repositories in Australia declined from 81 to 60 mainly through 2011 till December 2012; a situation which might be caused by the merger of Australian universities institutional repositories. USA has the largest number of open access repositories followed by the UK and Germany. Countries like China and Russia have shown low level of growth between 2005 till 2012.
In December 2012, 83% of the repositories are institutional repositories, the finding shows. Disciplinary repositories account for 12% of the total. The remaining 5% falls under aggregating and government repositories categories. Open access repositories are overwhelmingly multidisciplinary (62%) in nature. The remaining percentage goes to number of subject based repositories. Health and medicine, which is a subject based repository, accounts for about 9% of the total repositories worldwide. Most of the repositories contain journal articles (67%). The remaining content is thesis and dissertations, unpublished reports, working papers, conference papers and reports, book chapters and sections etc. Most of those repository contents are in English (71.4%), Spanish (11.7%) and German (8.7%) languages. DOI: 10.1002/asi.23131.