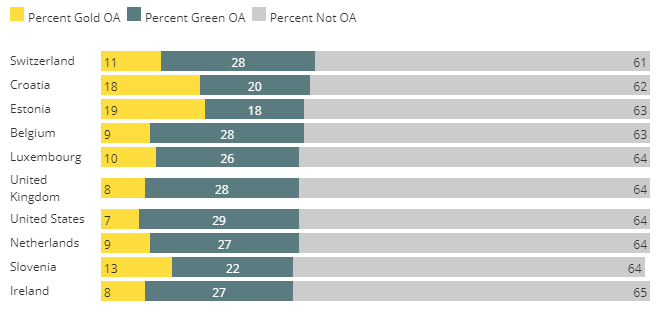 According to the study conducted by the EU, Switzerland ranks first in the global open access ranking. Croatia and Estonia take the 2nd and 3rd position respectively.
In Switzerland, currently, 39% of all publicly and privately funded research publications can be freely accessed on open access platforms. Nonetheless, approximately 50% of Swiss National Science Foundation (SNSF) funded publications are freely accessible. The target of SNSF is to reach 100% by 2020.
The study conducted by the EU is based on the Scopus database. For the study more than 200,000 papers published in the Switzerland between 2009 and 2016 have been analyzed.
In Switzerland open access publication grew by 10 percentage over the past seven years, the study reveals. Moreover, green open access is the dominant one. Out of the total 39%, 29 % is green. The rest 11% is gold.
Factors such as funders' mandates, journal policies, researcher attitudes, and costs slowed down the pace of open access growth, according to the study.

Sources
OPEN SCIENCE MONITOR