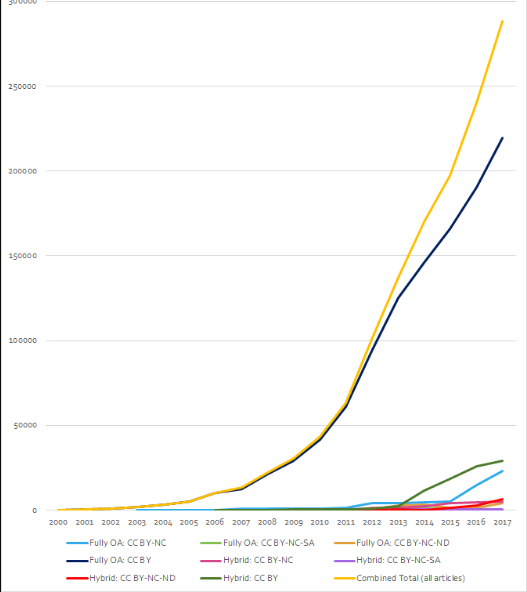 Over the years, open access has shown tremendous growth. The report recently released by OASPA (Open Access Scholarly Publishers Association) affirms this. According to OASPA in 2017 about 219,627 articles were published in fully open access journals. This brings the total number of articles published by the OASPA members, since 2000, to more than 1.2 million. With papers published in hybrid journals this figure is much higher.
Overwhelming majority of the OASPA members publish articles in fully open access journals. However, a significant number of its members also publish articles on hybrid journals, according to the OASPA.
The OASPA Open access publications have shown steady growth over the past years. The most significant growth, nevertheless, was recorded between 2011 and 2012. During this period open access showed 50% growth over the previous years. Nonetheless, the past five-year average open access growth for OASPA members was around 14%. This is still remarkable in several ways.
In 2017, according to OASPA, almost 80% of its members published on five publishers. These are Springer Nature (34%), MDPI (16%), PLOS (11%), Frontiers (9%) and Hindawi (8%).
The OASPA members include publishes such as PLOS, PeerJ, Oxford University Press, Springer Nature, SAGE publications, Cambridge University Press, DOAJ, F1000Research and Knowledge Unlatched.
Source
OASPA members demonstrate another year of steady growth in CC BY article numbers for fully-OA journals
Members