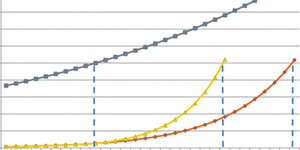 Simba Information has found out that the number of Open Access (OA) publishers and the revenue the sector generates has shown remarkable growth. This is mainly in the area of science, technical and medical (STM) journal publishers. The result has been achieved as a result of intensive global campaign by scientists, librarians, research funders and universities- according to Simba Information.
Samba Information estimates show that revenue of Open Access publishers increased by 32.8% in 2013. The revenue is principally generated through article processing charges (APC) that authors pay publishers in order to publish their articles on an Open Access journals.
Despite this rapid growth, OA revenue still only represents 2.3% of global 2013 STM journal sales, according to Simba Information's research. But this revenue stream is a bright spot against a flat market. While STM journal revenue is expected to increase at a compound annual rate of between 1% and 2% between 2011 and 2017, OA revenue is expected to more than triple in that period.
Open access is already having a bigger impact in terms of publishing output. By some estimates, OA already represents 10% to 20% of all research articles published.