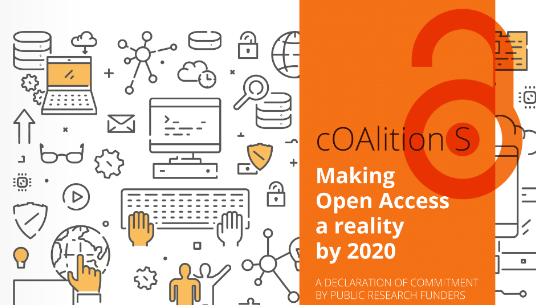 Signed on 4 September 2018, the Plan S is an open access initiative signed by eleven EU members. With the support of the European Commission and the European Research Council (ERC), the eleven national funding organisations form the cOALition S, which will work on a coordinated manner to implement the Plan's key principle: "After 1 January 2020 scientific publications on the results from research funded by public grants provided by national and European research councils and funding bodies, must be published in compliant Open Access Journals or on compliant Open Access Platforms."
The 11 signatories
| | | |
| --- | --- | --- |
| Country | Organisation | Acronym |
| Austria | Austrian Science Fund | FWF |
| France | French National Research Agency | ANR |
| Ireland | Science Foundation Ireland | SFI |
| Italy | National Institute for Nuclear Physics | INFN |
| Luxembourg | National Research Fund | FNR |
| Netherlands | Netherlands Organisation for Scientific Research | NWO |
| Norway | Research Council of Norway | RCN |
| Poland | National Science Centre Poland | NCN |
| Slovenia | Slovenian Research Agency | ARRS |
| Sweden | Swedish Research Council for Sustainable Development | FORMAS |
| UK | UK Research and Innovation | UKRI |
The 10 principles
Authors retain copyright of their publication with no restrictions. All publications must be published under an open license, preferably the Creative Commons Attribution Licence CC BY. In all cases, the license applied should fulfil the requirements defined by the Berlin Declaration;

The Funders will ensure jointly the establishment of robust criteria and requirements for the services that compliant high quality Open Access journals and Open Access platforms must provide;

In case such high quality Open Access journals or platforms do not yet exist, the Funders will, in a coordinated way, provide incentives to establish and support them when appropriate; support will also be provided for Open Access infrastructures where necessary;

Where applicable, Open Access publication fees are covered by the Funders or universities, not by individual researchers; it is acknowledged that all scientists should be able to publish their work Open Access even if their institutions have limited means;

When Open Access publication fees are applied, their funding is standardised and capped (across Europe);

The Funders will ask universities, research organisations, and libraries to align their policies and strategies, notably to ensure transparency;

The above principles shall apply to all types of scholarly publications, but it is understood that the timeline to achieve Open Access for monographs and books may be longer than 1 January 2020;

The importance of open archives and repositories for hosting research outputs is acknowledged because of their long-term archiving function and their potential for editorial innovation;

The 'hybrid' model of publishing is not compliant with the above principles;

The Funders will monitor compliance and sanction non-compliance.
Failure to comply with these principles may lead to the withholding of the final instalment of a grant, says Robert-Jan Smits, the European Commission's open access envoy.  
Reactions
As stated in the ten principles, researchers will no longer be allowed to publish on 'hybrid' journals – subscription journals where some articles are open access. The International Association of Scientific, Technical and Medical Publishers claims "banning hybrid journals could severely slow down the transition (towards full open access)". The giant publisher Elsevier supports these declarations. Springer Nature adds that "removing publishing options from researchers (…) potentially undermines the whole research publishing system".
"[Plan S] is a very powerful declaration. It will be contentious and stir up strong feelings," structural biologist Stephen Curry told Nature. In his personal blog, Peter Suber, long-time open access advocate, wrote:  "This isn't the first bold funder policy. But it's one of the few that I'd call strong, and it's among the strongest."